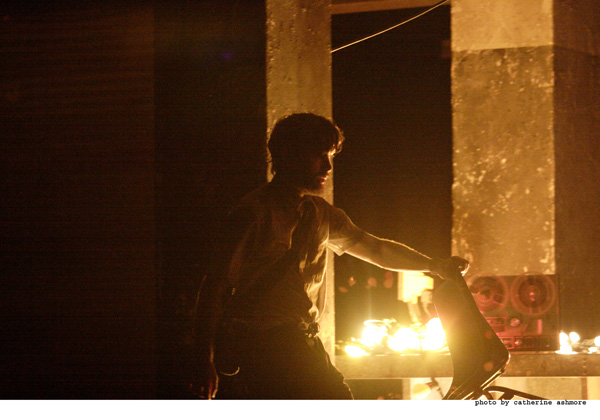 I think that I still can't think clearly about
Misterman
, even though it has been one week since I went to watch it at the
NT
. I have to admit, one of the reasons (ok, maybe the only reason) why I went to see it was because Cillian Murphy performs in it; he is the only performer; he is THE show.
Misterman
is not a particulary commercial play, not "pretty", not feel-good, it is not something that just anybody would want to go and see. But once you have seen it, you feel an urge to tell everybody you know to go and watch it because it is something that can not be missed, an experience that doesn't leave you untouched. I can't explain the emotions I felt after the play had ended, it leaves you so troubled that you find it hard to concentrate and critically analize what you have just seen.
Design wise, it was the most used set I have ever seen. The warehouse where Murphy performs is full with random objects to the audience's eyes: bulb lights, cans, biscuits, a tap, table, crosses, a stripe of lawn, ect but as the play goes along, he uses every single object in that room and they take a whole new meaning.
Here I leave some pictures (that don't do justice to the set, to be honest) and reviews, since my communication abilities seem to have vanished with this performance. Sadness, I think it is a accurate word to describe it.
'An emotionally disturbing, riveting one-man show... dark and quite ingenious with flashes of black humour.' Daily Express
'A knockout... a compellingly strange, absorbing and terrifying work of startling originality.'
Daily Telegraph
'Buzzing energy... we've never seen Cillian Murphy give this sort of show before.'
Evening Standard
'Misterman is at once a deadly concentration and ambitious expansion of all Enda Walsh's plays.' Guardian'A devastating portrait of a deranged man, pushed to an extreme action but still recognisably human in his madness... Not to be missed.'
Daily Express
XOXO